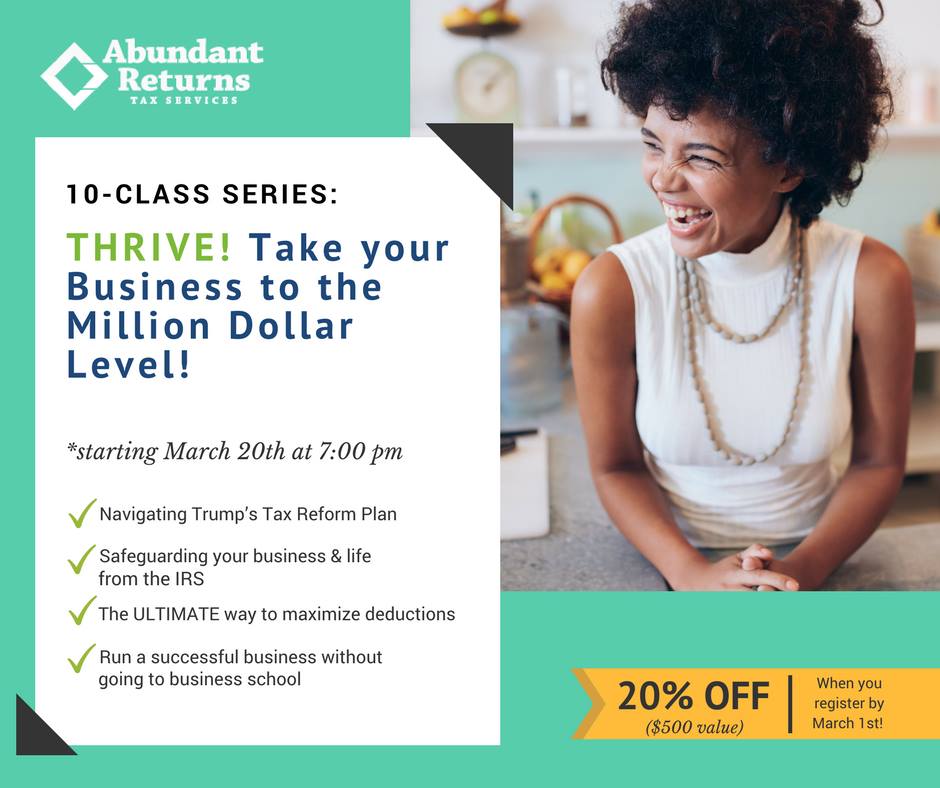 Thrive Series: Take Your Business to the Million Dollar Level!
I'm Larisa Humphrey, Certified Tax Coach, Best-Selling Author of 7 books & Enrolled Agent (representing clients before the IRS). JOIN me and other business owners as I show them how to make the tax code work for their businesses and lives in 2018!
Last year, 96% of our business clients paid ZERO dollars in taxes. We put over $1.750 MILLION of tax return dollars in our clients' pockets. Now, I've inviting you and others to my office for a 10-Class (once a month) Series to learn 4 ESSENTIAL Strategies:
✅ How to navigate Pres. Trump's Tax Reform Plan.
✅ How to keep your business (& your life) safe from the IRS.
✅ How to run a business (for people who didn't go to business school).
✅ How to legally maximize your tax deductions.
WHEN: 10 classes/Once a month (starting May 8, 2018 at 7 PM)
WHO: Small Business Owners who want to pay ZERO to little as possible in taxes & maximize their tax deductions.
COSTS: $2500 for the entire series (✨$500 OFF when registering before May 1st)
*Seating is very limited, so please register TODAY!